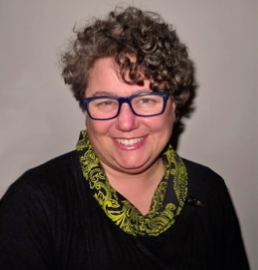 Jane Ledwell is a writer, poet, and editor from Prince Edward Island, now living in Charlottetown. As a student in the early 1990s, she worked as a tour guide and cultural interpreter at Green Gables Heritage Place, reigniting an acquaintance with L.M. Montgomery. She is the current executive director and past researcher/policy analyst of the PEI Advisory Council on the Status of Women. She previously worked at the Institute of Island Studies and in the English department at the University of Prince Edward Island. She is a graduate of Mt. Allison University in Canada and the University of Waikato in New Zealand, and holds a certificate in conflict resolution from UPEI. She has co-edited two books of essays on L.M. Montgomery's work, L.M. Montgomery and War (MQUP, 2017) with Andrea McKenzie and Anne around the World (MQUP, 2013) with Jean Mitchell. She has produced three books of poetry, Return of the Wild Goose (Island Studies Press, 2019), Last Tomato (Acorn Press, 2005) and Bird Calls (Island Studies Press, 2016). She is a past recipient of the award for Distinguished Contribution to the Literary Arts in PEI. She is a parent of two children, Anna and Sam, with her partner, visual artist Stephen MacInnis. 
What excites you about being a Journal editorial board member? 
I am excited to be a member of the editorial board, first, because the Journal will include a variety of responses to Montgomery's life and writing, and, second, because I think I have insights to contribute from my experience as a Prince Edward Islander with complex connections to the landscape, history, and culture of this place—and to Montgomery's legacy in this place.
What would you like to see the Journal contribute to LMM studies? 
I am particularly interested in being introduced to expanded artistic responses to Montgomery's work, and a critical and analytical framework around these responses.
Who is the best love interest in Montgomery's world?
My children will tell you how much I hate to choose my favourite anything. I do not want to decide on let alone reveal my favourite ice cream, my favourite song, or my favourite offspring. However, I do have a lovely memory of going out for beer with other students from my undergraduate honours seminar at university and the discussion devolving to a very serious, in-depth, and heated discussion of whether Emily should have married Teddy or followed a different path. I no longer remember what side I was on in that discussion. I just remember the hot, dark bar and the fun of young adults getting carried away with a story.
Where is the best Montgomery place, fictional or real? 
Truthfully, the real-life Lover's Lane in Cavendish leads into a little wood that is magical, especially in early June. I am always startled at the truth of its magic.
Who is the best Kindred Spirit?
I met my real-life best friend because she weirdly knew LMM's cat's name, and my real-life best friend is best.
Scariest thing in Montgomery's works?
The scariest thing in Montgomery's writing, other than the spectre of depression or the shadow of war, is the well in the Lee field in Emily of New Moon.
Where is the most interesting place you've been while reading LMM?
I have had the good fortune to enjoy the thrill of reading all of Montgomery's works right here in Prince Edward Island.
What languages have you read LMM in?
I've only read LMM in English and French.
What is your favourite adaptation?
Satire, rather than adaptation, but the 1990s Charlottetown sketch comedy Annekenstein (briefly revived in 2016) was terrific. I was a guide at Green Gables house in the early 1990s, and there was no greater joy than seeing myself spoofed by the very talented writers and performers of Off Stage Theatre.
What was Montgomery's greatest accomplishment?
To me, Montgomery's greatest accomplishment as an author was quite simply the devotion and hard work she put in to honing her observation so that she could capture the richness and nuance of a place and a culture through unforgettable characters.